HVLP (High Volume Low Pressure)
HIGH VOLUME AT LOW PRESSURE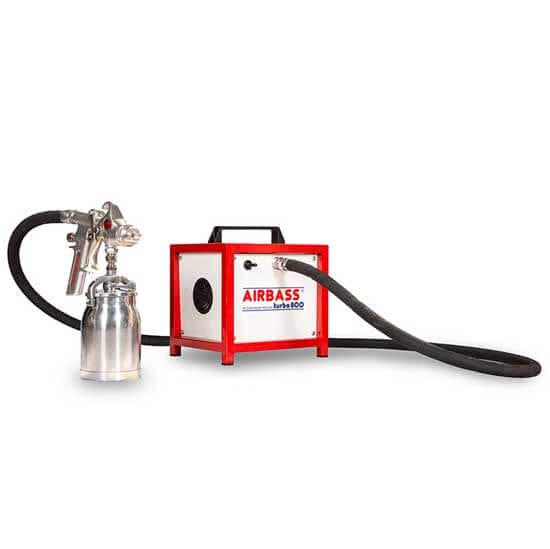 The need to use increasingly environmentally friendly painting techniques that have less impact on the environment has been found in HVLP (High Volume Low Pressure) technology – high volume at low pressure – a perfect combination of green needs and the efficiency of the spray painting system.
The HVLP ecological coating is characterized by the use of compact but highly performing Turbines, capable of delivering a large airflow through a pipe that feeds the airbrush gun, specially designed to allow a transfer capacity of up to 85% with very low pressures up to a maximum of 0.8 Bar. One of the main advantages of this technique is the very low dispersion during work, thus allowing more product to reach the surface to be treated, optimising the consumption of paints and limiting their diffusion into the atmosphere, greatly reducing pollution.
Together with the research by the colour factories to produce more ecological products by creating dry residue paints (with low percentages of solvents) or water-based paints, we pay more and more attention to the protection of the environment.
TECNOVER Solutions for HVLP Airless Painting
The Turboshort 1000 and Airbass Turbo 800 are turbines that use the ecological High Volume Low-Pressure method of painting.
The turbine they are equipped with generates a large volume of hot air, obtained mechanically by friction, facilitating the drying and the relative attachment of the paints to the supports. The products rest gently on the surfaces to be covered, reducing the possibility of casting and accelerating their drying.
The air generated by the turbine is not only hot but also dry: the relative humidity is reduced by almost 40% and the condensation of water and oil is eliminated. This creates ideal conditions for a perfect application of modern paints.
The Low-Pressure method used by our HVLP turbines then limits the inconvenience of mist formation as it happens in compressed air equipment. This results in economies of paint from 15 to 40% and the reduction of pollution to the benefit of the health of applicators and the environment.
The air filter placed in the inlet then guarantees perfect air quality while the high power of the turbine allows optimal spraying of the paints obtaining finishes of the highest level.
The professional Airbass 300 pistol equipped with our HVLP Turbines allows you to adjust the fan (horizontal, pink, vertical), the amount of material to be sprayed and the exact calibration of the airflow. This peculiar characteristic, together with the wide range of nozzles available (in sizes ranging from 1 to 3.5 mm) makes it possible to best adapt to the type of product used and the surface to be painted.
The practicality of moving, the reduced weight and the space available complete the characteristics of excellence of these versatile machines for a greener and more eco-sustainable industrial coating.
Discover Tecnover solutions for HVLP painting